Transfer Summary¶
The Transfer Summary is part of Transfer Details.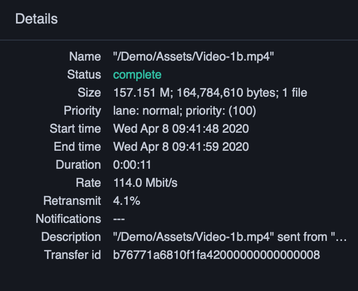 Clipboard¶
The Transfer Summary supports the clipboard copy operation. To copy information from the summary:
Use the left mouse button to select any row, or rows, from the Details table in the Transfer Summary. Press Control,⌘ + A to select all rows.

right click ‣ Copy to clipboard (csv) or press Control,⌘ + C.
The selected items will be copied to the clipboard.
The following shows an example of the Transfer Summery copied to the clipboard.
Transfer id, 23bbb7b8129ac2f52000000000000001
Status, complete
Destination path, /incoming
Number of files, 1
Size, 829.000 M (869,269,504 bytes)
Encrypted, yes
Start time, Thu May 24 07:00:46 2018
End time, Thu May 24 07:01:22 2018
Duration, 0:00:36
Rate, 105.2 Mbit/s; target: 154.6 Mbit/s
Priority, lane: normal (0.25); prioriy: (100)
Retransmit, 0.0%
Notifications, to:person1@example.com; cc:person2@example.com