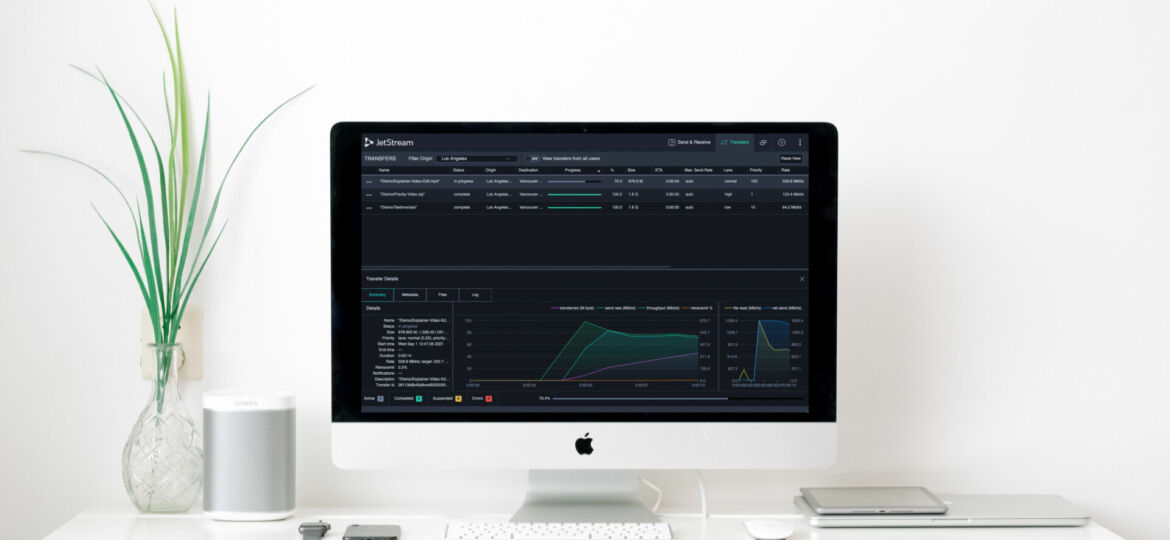 JetStream 2.8.2 Enhances Transfer Performance of Multiple Files and More
The newest release of JetStream accelerated file transfer software continues our efforts to optimize performance and simplicity. This allows users to move data as efficiently as possible and monitor transfers with the utmost ease of use.
Skip Moved or Deleted Files when Sending Transfer of Multiple Files
Organizations often move data packages that contain hundreds or thousands of files every day, resulting in a time-consuming process for IT staff. Much of their time is spent overseeing transfers and ensuring they complete correctly.
JetStream accelerated file transfer software is enterprise grade software that is robust enough to handle large volumes of data transfers without burdening IT teams with manual overhead. In this release, users sending multiple files within the same transfer will see an efficiency boost as only files with errors will need to be resent as opposed to the entire batch.
Users can now navigate to the Transfer Preview window and simply choose the option to skip errors. Especially useful when sending multiple files, this will allow JetStream to skip over moved or deleted files and continue the overall transfer. JetStream will then provide a summary of unsent files. This will help the user determine if any files need to be resent. The result is a more efficient process for sending multiple data sets.
Search or Filter the Columns in the Transfer Manager
Because many companies manage hundreds of file transfers daily, JetStream Version 2.8.2 offers users a simpler way to locate a specific transfer. A search can now be performed using the new Search Bar to quickly find a file transfer by Name, Source, or Destination.
Also included in this release is a tool to Filter Columns. For more specific searches, multiple filters can be activated at the same time, such as Destination and Status. These new features provide users with a simple and effective way to increase ease and efficiency.
General UI Enhancements
JetStream is acclaimed for having the most intuitive user interface. Sending files and managing transfers are so simple and enhancements are continuously introduced for even more ease of use.
For example, the Shared Link management screen allows users to view all shared links. Now, users can also see if the Shared Link is also a Watch Folder. Useful for administrators, this view gives them quick information at a glance.
Also new to JetStream 2.8.2 is a better indicator when the Host Server has stopped so users know why transfer progress may have stalled. In the Transfer Manager, 'Not Responding' will display when the Host Server is stopped. Once the Host Server resumes, the transfer will automatically resume from the last checkpoint.
Performance Optimizations
Included with all JetStream releases are a number of optimizations to enhance velocity and transfer performance.
Download the latest version or contact us to try JetStream for free.