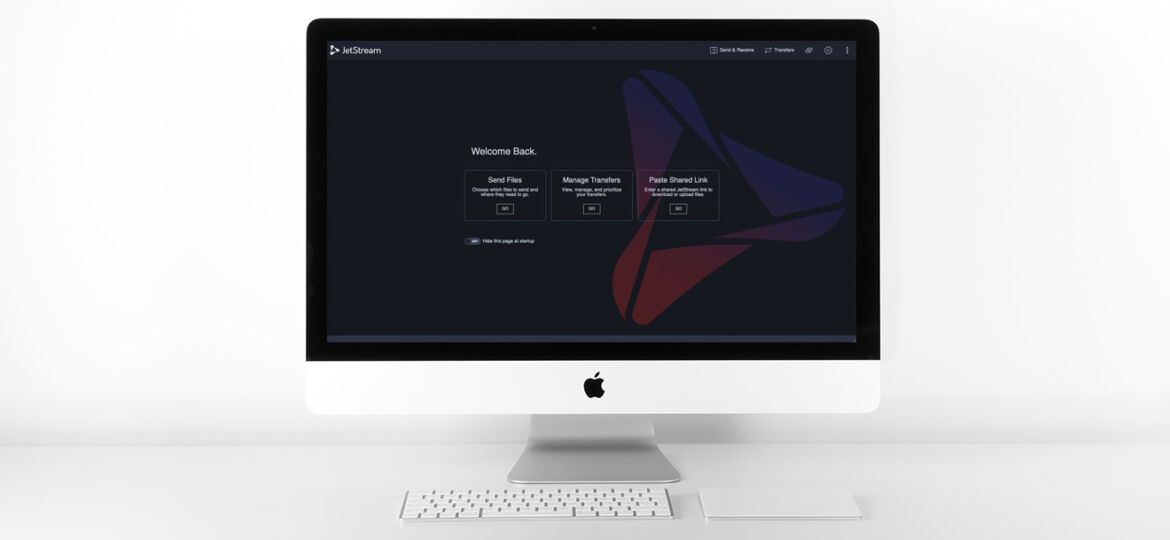 Jet Digital Announces JetStream Version 2.4
New features enhance the ease of use of JetStream high-speed file transfer software.
Vancouver, BC – Jet Digital, a technology company reimagining accelerated file transfer, today announced the release of version 2.4 of its Go:JetStream ("JetStream") software. As a technology enabling remote work, especially now during the COVID-19 pandemic, this latest JetStream version includes more features to simplify the enterprise file transfer experience.
Multiple File Transfer Options
Unlike other products using the legacy TCP protocol, JetStream high-speed file transfer software moves large files fast. Its technology protocol adapts to changing network conditions and minimizes the effects of latency. When embedded within a digital workflow, JetStream can be easily set up to automatically initiate file transfers. Alternatively, users can move data on an ad hoc basis with a user-friendly drag-and-drop interface or shared links.
Secure File Sharing
In this latest version of JetStream, link share functionality has been expanded to give organizations more flexibility for user management. Previously, a sender could generate a password-protected link to share a file with another user not registered in the system. The link would be emailed to a recipient to initiate download and data movement was essentially one-way. Now, folders can also be set for bi-directional file sharing without requiring the link recipient to be authenticated by username and password. This feature is useful, for example, when companies work with freelancers on contract. Access can be easily configured within the JetStream client application, including the ability to set time limits and passwords. For added security, shared folders can be configured as upload only, download only, or both.
Easy-to-Use Interface
In addition, the JetStream 2.4 client application has an updated user interface with tabs for better navigation. For organizations rolling out JetStream to their employees now working from home, the new and intuitive user interface requires little to no training. As such, remote teams can immediately start sharing files quickly and securely from wherever they are.
"Having the right remote work technology is crucial, especially during these times, and JetStream high-speed file transfer software is an important part of that toolkit," said Michael Devine, President of Jet Digital. "By making our software even easier to use, businesses can deploy JetStream quickly to people working at home, whether their own employees or freelance contractors. JetStream helps teams move files fast and keep their projects moving forward wherever they are."
A free trial of JetStream is available at https://gojetstream.io/free-trial.
Jet Digital is reimagining accelerated file transfer with JetStream. Purpose-built technology to make moving data easy, JetStream helps organizations connect and collaborate better. Thoughtful design and relentless customer focus personify the JetStream experience. For more information, visit https://gojetstream.io.