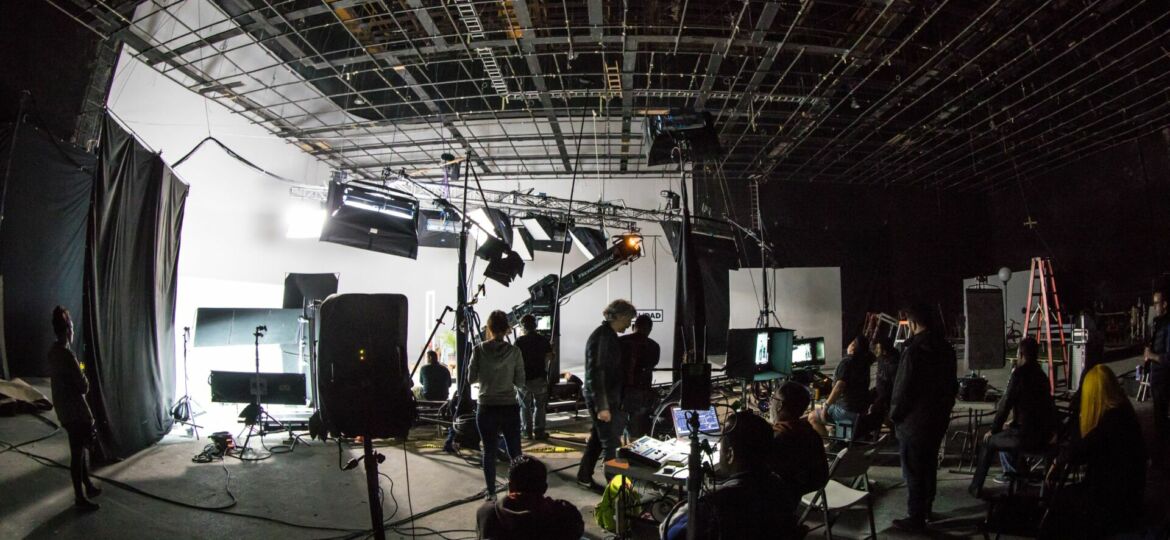 How to Transfer Large Video Files: Best File Transfer Solution
Video file sizes have increased exponentially in a short amount of time. 1080p content, once considered the highest quality, is now commonplace and being taken over by 4K. A recent study in Hub Connected Home found that 44% of Americans have a 4K capable set and 61% of those owners have watched 4K content. Furthermore, there is an interest in these owners to buy a set with even higher resolution. In fact 8K content is already available to view on some streaming services, although in limited quantity.
As video quality improves, so does file size. And everyone, from film hobbyists to film production professionals and broadcasters, has seen the enormous file sizes that come with digital workflows. The challenge is moving the large video files from the shoot location to the editing room or from your computer to other team members and clients.
When transferring media files for a digital workflow, important considerations are speed, ease of use, consistency, and security. JetStream accelerated file transfer software is easy to use and robust enough to securely transfer your large video files with blazing speed so your projects can complete on time.
Learn more about how to transfer large video files:
What is Considered a Large Video File?
For many, video files over 20 gigabytes (GB) are considered large and present challenges to move. Without an accelerated file transfer solution, these files can take several hours to arrive to their destination, often with interruptions and incomplete transfers.
If you are searching for a way to transfer large video files, this post will give you some options to consider when choosing the right method for your needs.
How to Transfer Large Video Files
There is a wide range of people who need to transfer large video files, from individual content creators to film productions studios. They move up to hundreds of gigabytes of data daily for digital workflows, collaboration, and distribution.
In the past, email was the method of choice for sending and receiving most files, but email was not designed to transfer extremely large amounts of data such as video files. Email transfers pose security risks because emails are typically not encrypted nor authenticated, which means that people other than the sender and recipient can potentially access them. Email gateways also limit file attachment sizes, posing a barrier for large file transfers. Therefore, better alternatives are necessary when transferring large video files.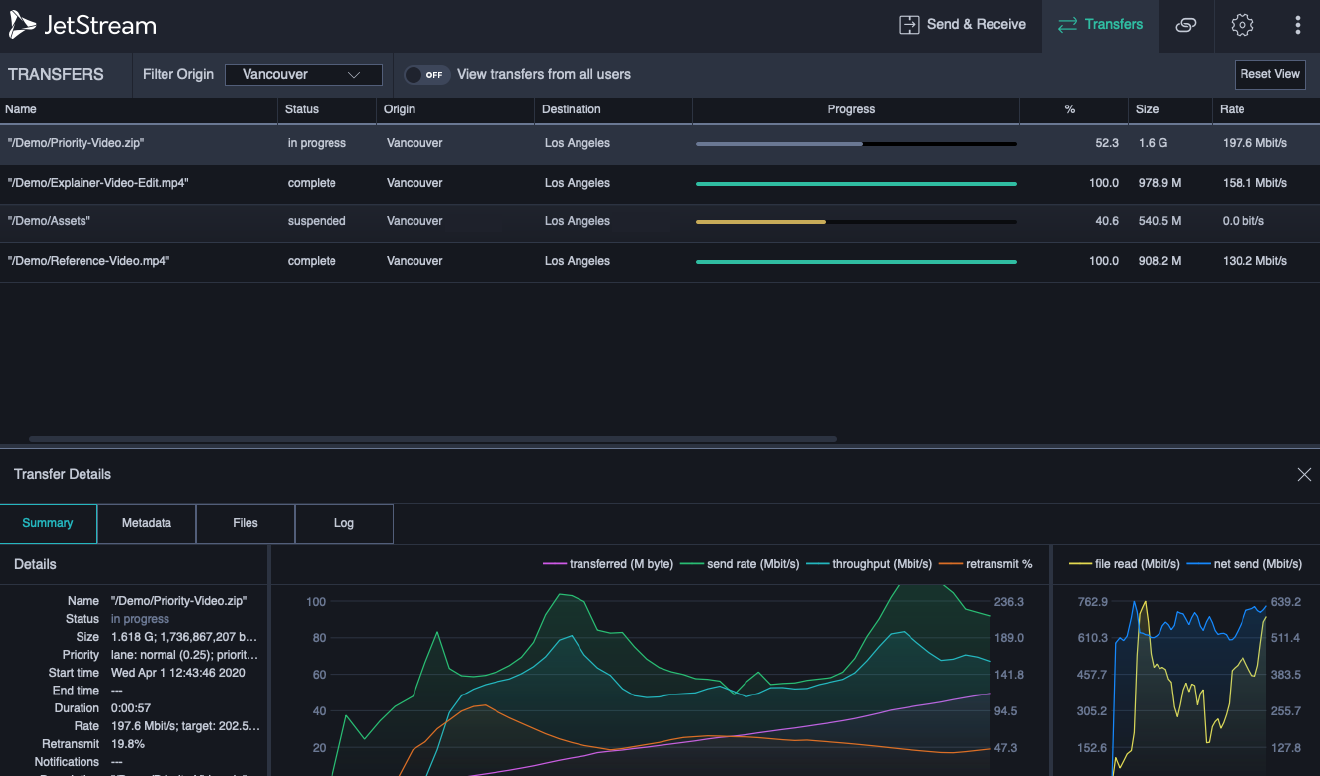 JetStream vs. Using File Compression Software
File compression software is a simple solution for sending large files. It runs on most platforms and is readily available. File compression is a technique to reduce the size of a file or group of files to the smallest possible size.
Uploading large video files with file compression software, however, can take hours or days and is susceptible to time outs leading to delays on time sensitive projects. Furthermore, compression software can result in data loss because the technology that is used to make the video files smaller reduces the video quality. For some, data loss isn't a big concern. However, for others, mission critical projects require all files to be in their original form.
With JetStream large file transfer software, you don't need to compromise on the quality of your large video files. Our state-of-the-art technology enables you to send all your files, no matter the size, with the confidence that it will arrive quickly to its destination with no time outs. JetStream allows you to use your existing full bandwidth potential with speeds 100x faster than FTP.
JetStream vs. Using Flash Drive
USB flash drives are a great solution for transferring files to a colleague. They are very easy to use for both the sender and recipient and are easy to transport. Moreover, flash drives are more convenient if you have a slow internet connection.
On the other hand, if the flash drive is lost or destroyed, you could lose all your data. Although flash drives with larger memory are available, they are not ideal for exceptionally large file transfers or continuous backups. Security of your data is also an issue if the flash drive is unencrypted. Another security concern would the potential to introduce malware via the flash drive.
Furthermore, physically sending a flash drive is not the best option for time sensitive data because you must factor in the time it would take to travel to its destination and potential shipping delays. It is also inconvenient and labor intensive to ship the same files to multiple recipients in different locations.
JetStream accelerated file transfer software offers a better solution to physically carrying files on removable storage. Our powerful software can handle transfers of any size with speed and reliability. Moreover, built-in security protocols ensure that your video transfers will arrive to the recipients without the worry of losing irreplaceable files through physical mishandling or shipping errors. Lastly, JetStream provides easy content distribution to multiple destinations, locations, and users. JetStream Watch Folders enables workflow automation by allowing files to be placed in one folder and then automatically uploaded or downloaded to a connected folder in another location.
JetStream vs. Using a VPN
Some users employ a Virtual Private Network (VPN) because it encrypts your traffic and keeps online activities confidential. VPNs also offer users a different way of securing a connection between locations. For example, it provides a simple way to access content in other offices or storage locations connected to the VPN.
For file transfers specifically, VPNs can mask the size of files and their destination from restrictions imposed by an Internet Service Provider (ISP). Because many ISPs control bandwidth to restrict the size of files that you can send, VPNs offer a way to work around these limitations.
This method, nevertheless, significantly slows down the internet connection and does not guarantee that files will arrive intact. Using a VPN also requires technical know-how for the users to set up a site to site VPN.
JetStream is an enterprise grade full software solution designed to achieve full line speed regardless of network conditions. Your team can send as many big files as they want with the peace of mind that the data will reach its destination. In addition, JetStream is easy to use with an intuitive design that requires little to no training.
JetStream vs. Using SFTP
Secure File Transfer Protocol (SFTP) is the secure option to the old-school File Transfer Protocol (FTP). It prevents unauthorized users from viewing passwords and other information through encryption while files are in transit.
However, large media file transfers are slow with SFTP often resulting in high failure rates.
JetStream's accelerated file transfer protocol provides maximum throughput over high latency and unreliable networks so your files can quickly get to where they need to go. As for security, JetStream gives users peace of mind because our technology transfers your files from point-to-point with a military grade security layer.
JetStream vs. Using the Cloud
Users have found that sharing videos by way of the cloud is one of the easiest ways to distribute information. Data libraries can be shared for others to download with permissions set up so only the intended users can have access. For organizations looking to modernize their operations, the cloud has provided a way to take advantage of lower infrastructure costs, increased elasticity, and security.
With JetStream, you don't need to choose between a file transfer method and the cloud. JetStream offers seamless integration into some of the most popular cloud services such as AWS, Azure, Backblaze, and Wasabi. We also include open APIs at no extra cost so you can design your own cloud-based workflow. Save time and transform your workflow by quickly, reliably, and easily moving video files in and out of cloud storage with JetStream accelerated file transfer software.
Best File Transfer Solution
JetStream file transfer software is the easiest way to accelerate your large file transfers. Simple to set-up and user friendly, JetStream provides your organization with a powerful, robust and secure file transfer method.
Easy to Use and Intuitive Design
JetStream's clean and intuitive interface requires little to no training. Simply drag and drop to start transfers or use Watch Folder automation.
With JetStream, you can monitor transfer activity through our dashboard with the ability to manage your transfers. Pause, speed up, or simply get the ETA; it is that easy. If required, you can also change transfer priority with a few simple clicks.
Lastly, JetStream allows you to leave the burden of complex set-up behind. No need for an intrusive installation or highly technical people to maintain the software. All user types can access JetStream accelerated file transfer so once installed, you won't have to heavily rely on your IT department.
Blazing Speed and Full Bandwidth Potential
Our state-of-the-art technology enables you to use your existing full bandwidth potential to transfer large files without incurring additional infrastructure costs. We don't cap your bandwidth so JetStream can adapt to your current workflow and grow with your future needs. We also include central monitoring and flexible bandwidth control to optimize for speed or multi-tasking.
Military Grade Security
With JetStream file transfer software, security is built-in. We provide comprehensive security to your files through user authentication, tokenization, and transfer-level encryption. In addition, the JetStream Security Layer provides confidentiality, data integrity, and packet replay protection.
JetStream is built for Integration
JetStream is purpose built for integration and includes open APIs at no extra cost. Our simple method of integration allows you to programmatically transfer large files between JetStream servers or be integrated as part of an existing workflow. As a result, your IT team can focus on strategic tasks while file transfers work seamlessly behind the scenes. Workflow automation is readily within your reach.
JetStream Watch Folders can be Set-up in Minutes
JetStream Watch Folders are built for automation. Our intuitive interface allows you to quickly schedule a task and simply let the software run.
With JetStream, you can also share files more easily by creating automated transfers for authenticated and non-authenticated (third party) users alike. Moreover, you can control your transfers with the ability to set a password and/or expiration date, delete automations, and configure multiple automated events.
No complex pricing
One low annual price. Blazing speed. Everything you need for file acceleration.
JetStream's pricing structure is simple. We charge one price for a robust file acceleration solution. No need to add on multiple applications. No monthly bandwidth based or cloud based (per GB) calculations. No extra charges for concurrent client connections. JetStream always includes:
Unlimited bandwidth
Unlimited transfer volume
Unlimited client application distribution
Unlimited API access
Software updates
Support
Your teams can easily scale based on the number of projects on the go and the price will remain the same no matter the team's size. One low annual price. Limitless possibilities.
JetStream: Transfer Large Video Files
In this post, we examined several different methods for transferring large video files. Key factors to consider are: the ability to move large files, speed and resilience of method, secure transfer options, ease of use, and workflow integration.
For your large video file transfers, consider JetStream. JetStream is an enterprise grade software UDP solution designed to achieve full line speed regardless of network conditions. JetStream's purposeful design is user friendly and can be rapidly deployed so you and your team can get up and running quickly.
Try our software for free and experience the power and simplicity of JetStream.