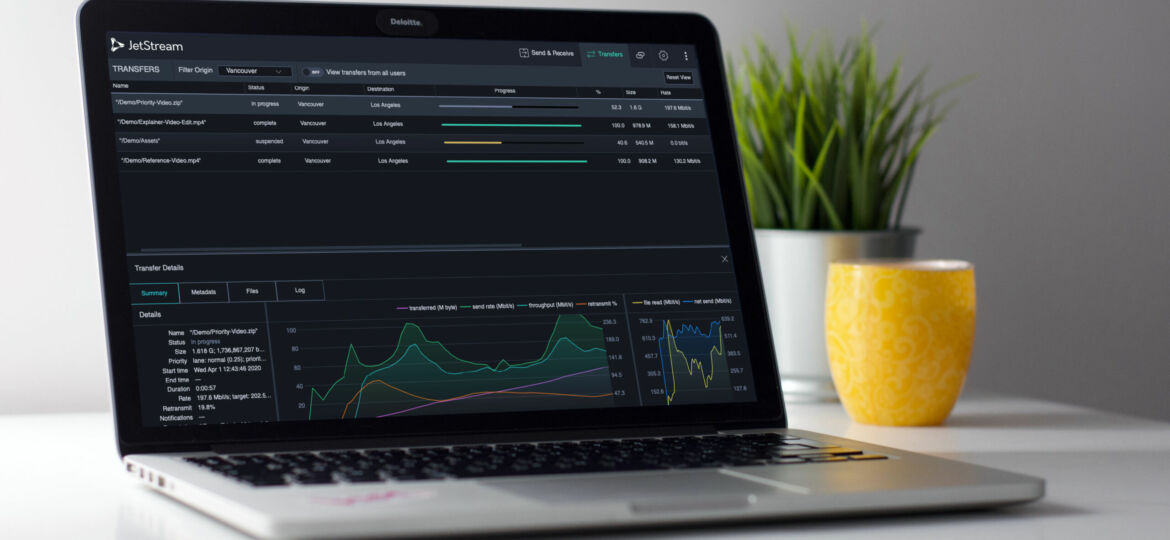 Large File Transfer Software
What is Fast Large File Transfer Software from JetStream?
JetStream fast large file transfer software is the easiest way to send large files quickly and securely anywhere around the world. Our software is built for power and simplicity so all users can transfer their files with blazing speed, enterprise reliability, and high security.
With JetStream, you can move large files faster. Because ever evolving technology brings bigger and bigger file sizes with it, companies need to adapt to the growing data usage. Our fast large file transfer software enables a variety of industries to quickly and securely send large data to connect your teams and customers faster.
What industries benefit from JetStream?
Moving digital assets for film and television production, content creation, post production and more
Healthcare & Life Sciences
Working with patient and research data
Working with confidential information
Moving confidential information to and from many different locations
Every digital workflow requires the movement of files, either to other people or to an archive. Slow and unreliable transfers get in the way of work getting done. At JetStream, we offer you a better alternative to shipping hard drives, compressing files, or reworking files into smaller sizes. JetStream has enterprise grade capabilities that are straightforward to understand and use. Furthermore, businesses can scale up or down to meet their particular needs.
Blazing Speed
JetStream is 100x faster than TCP and resilient to weak internet connections and high latency, unlike legacy transport technologies. Whereas TCP requires back-and-forth communication between the sender and recipient, JetStream fast large file transfer software eliminates latency and allows you to take advantage of all available bandwidth. As a result, with JetStream you can upload and download large files quickly no matter what:
Unlike FTP, SCP or RSYNC, use 100% of your available network capacity
Multi-threaded read and write systems have sufficient IOPS to maintain target transmission rates
Send rates dynamically adjust to adapt to current network conditions
Control how much bandwidth to allocate to file transfers
Relentless Reliability
JetStream large file transfer software is resilient. Unlike TCP, JetStream doesn't time out because of fluctuating internet connections or long distances. Everyone has experienced the frustration of file transfers taking too long or worse yet, files not arriving at their destination.
With a custom accelerated file transfer protocol, JetStream provides maximum throughput and performance over high latency and unreliable connections. It's relentless in getting your files to where they need to go. Therefore, send your large files worry-free knowing that JetStream will deliver your files intact through:
A client-server architecture robust to packet loss, reordering, and delays
Configurable MD5 to verify transfer integrity on-the-fly or by file
Retry feature to pick up transfers once a lost network connection is restored
Configurable transfer properties such as send rate and prioritization
Auto-resume functionality to easily and automatically recover from any interrupted transfers
Easy to Use with the Security You Need
User Friendly
JetStream is purposefully designed and user friendly. We take the philosophy of ease of use seriously. Our clean and simple interface is understandable even by non-technical users. For example, our intuitive user experience allows for simple drag and drop to start transfer as well as the use of Watch Folders for automation.
Moreover, the modern and useful dashboard gives users access to:
Monitor transfer activity
Change transfer priority
Share folders
Create Watch Folder automations
Control member and member permissions
JetStream gives your teams and your clients an approachable and easy way to transfer large files.
High Security
Security is built-in to JetStream fast large file transfer software. JetStream protects files both in-flight and at rest. We provide comprehensive security to your files through user authentication and transfer level encryption. In addition, our security layer provides confidentiality, data integrity, packet replay protection and more:
Point-to-point connectivity between the client and server
Industry standard encryption, including SSL (TLSv1.3 or TLSv1.2) for JetStream Server connections and AES 256 for data transfer
Enhanced connectivity security using machine validation
Support for existing domain credentials, with user authentication via LDAP(S), Active Directory (AD, ADS), or database
Ability to restrict user activity to specific resources and folders
Support for Relay configuration, minimizing a machine's connectivity to the internet
JetStream secure file transfer software default settings are always the most safe, but users can alter the configurations based on their needs.
Collaboration
JetStream fast large file transfer software enhances your team's collaboration. When teams can share and transfers large files quickly and without worry, they can work more efficiently and collaborate more fluidly. Thus, your projects will take less time to complete.
Furthermore, with remote work and geographically dispersed teams becoming the norm, the need for fast large file transfer software is growing more and more. Businesses need quick access to their files and data storage from multiple locations. We offer companies flexibility and a method of securely and reliably sharing data, regardless of the distance.
Integration
Created with integration in mind, JetStream fast large file transfer software includes open API Information at no extra cost. Hence, businesses can maximize efficiency by creating workflow automations that are easy to embed into existing workflows. Effortlessly transfer large files between digital asset management systems, on-premise storage, cloud storage, and your other tools. With JetStream, seamless workflow automation is within reach.
Prioritize File Transfers
JetStream fast large file transfer software has centralized bandwidth management to ensure your most important files are moved first. For instance, critical and time-sensitive data need to be sent with higher priority than other files. With JetStream, you can assign different priority levels to your file transfers:
Set low, normal, or high bandwidth utilization in priority lanes
Rank transfers within a priority lane
Set bandwidth ceiling for low priority individual transfers
Watch Folders
JetStream enhances fast large file transfers with the addition of Watch Folders. Watch Folders are folders that automatically trigger transfers when files or folders are added to it. In particular, improve your digital workflow by using Watch Folders to create file transfer automations to:
Simplify content distribution
Automate large-scale repetitive tasks
Ingest content from multiple sources
Maintain source folder structure
Transfer off hours when network is less taxed
Transfers are encrypted in transit
Watch Folders are easy to create and manage just like regular JetStream file transfers. For example, simply drag and drop for quick automatic data transfers. You can also create shared links to allow non-credentialed users to connect to a tokenized Watch Folder.
Take Advantage of the Cloud
Cloud Migration
JetStream fast large file transfer software moves your data to the cloud quickly, reliably, and securely. The majority of IT infrastructure continues to be on-premise but the cloud is the next step to modernizing your business. So if you are looking to innovate by moving to the cloud, a key step is migrating your data. We provide an easy way to get started with the cloud so you can leverage cloud storage. JetStream can move your files directly to and from major cloud service providers like Amazon S3, Backblaze, and Wasabi. See your business transform.
Cost Certainty
JetStream offers a simple and frictionless pricing model. You are only charged for the number of servers you deploy. For one low annual price JetStream provides:
Unlimited bandwidth allocation
Unlimited transfer volume
Unlimited client application distribution
API access
JetStream allows you to scale your business on demand without worry or cost.
How Does Fast Large File Transfer Work?
JetStream uses state-of-the-art technology to move your data rapidly and securely. The software is remarkably easy to use – simply drag and drop files to start transfers.
Use JetStream to ingest and distribute content as well as collaborate with team members or clients. Lastly, rest assured that your file and folder structure will remain intact during the transfer process.
Multiple Ways to Use Fast Large File Transfer
Download links – easily create shareable links with the optional ability to set a passphrase and limit the number of file downloads
Shared Folders – Automatically grant temporary file sharing credentials for a specific folder with the flexibility to set upload and download permissions
Ad Hoc Transfers – Using the intuitive client application, manually drag and drop files to start transfers
Workflow Automation – Use open APIs to embed JetStream into existing digital workflows and automatically trigger file transfers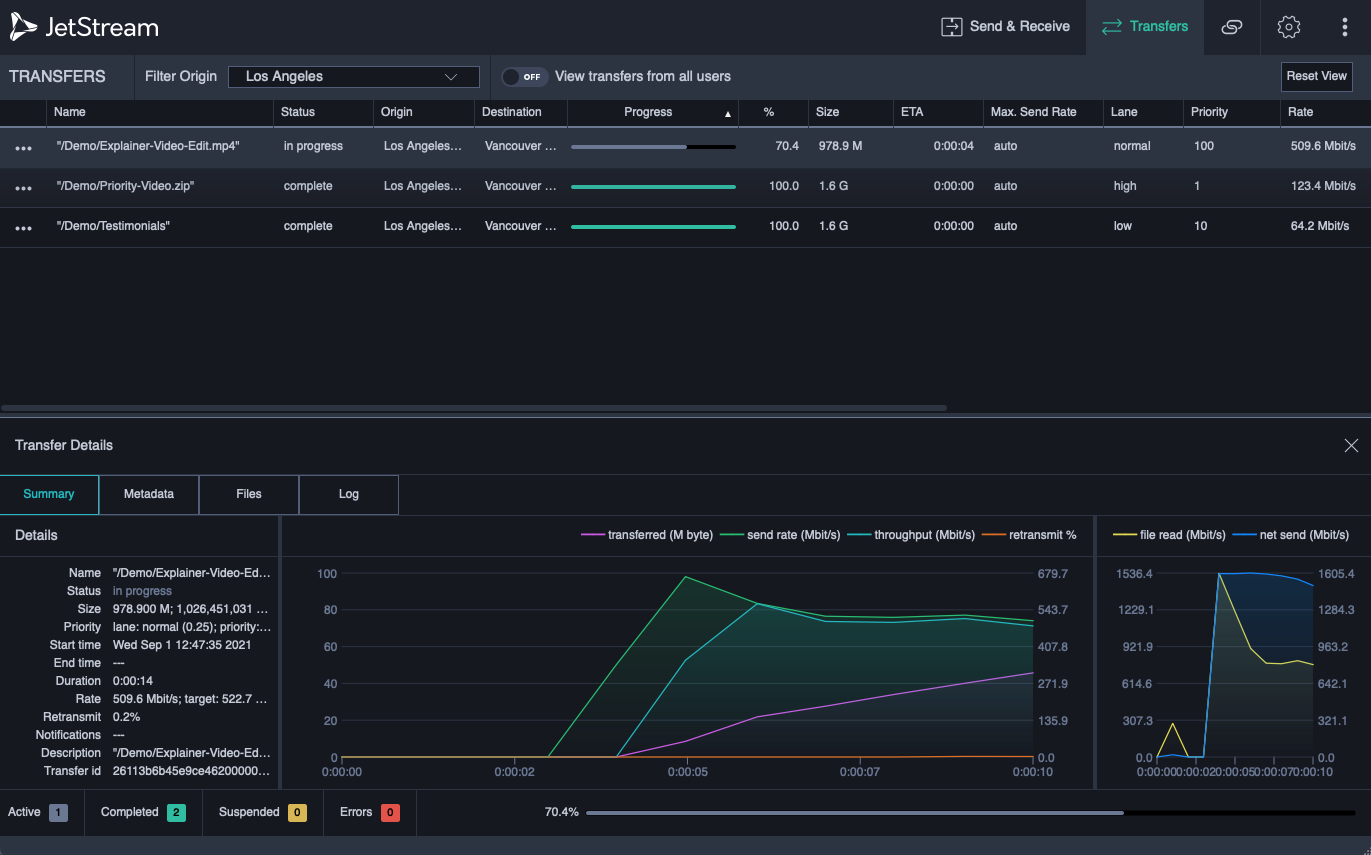 Straightforward Transfer Management
JetStream's user friendly design provides an intuitive transfer manager that is powerful and effective:
Real time graphs show transfer rates, throughput rates, and more
Easily prioritize jobs and set bandwidth caps if needed
For more technical users, view a detailed transfer log
How Can I Get Started Transferring Large Files?
Learn more about how fast large file transfer with JetStream can meaningfully impact your business. We have a wide variety of features to connect your people quicker, easier, and more powerfully. Contact us today to start a free trial of JetStream.
Visit our General Software FAQs page for even more information.