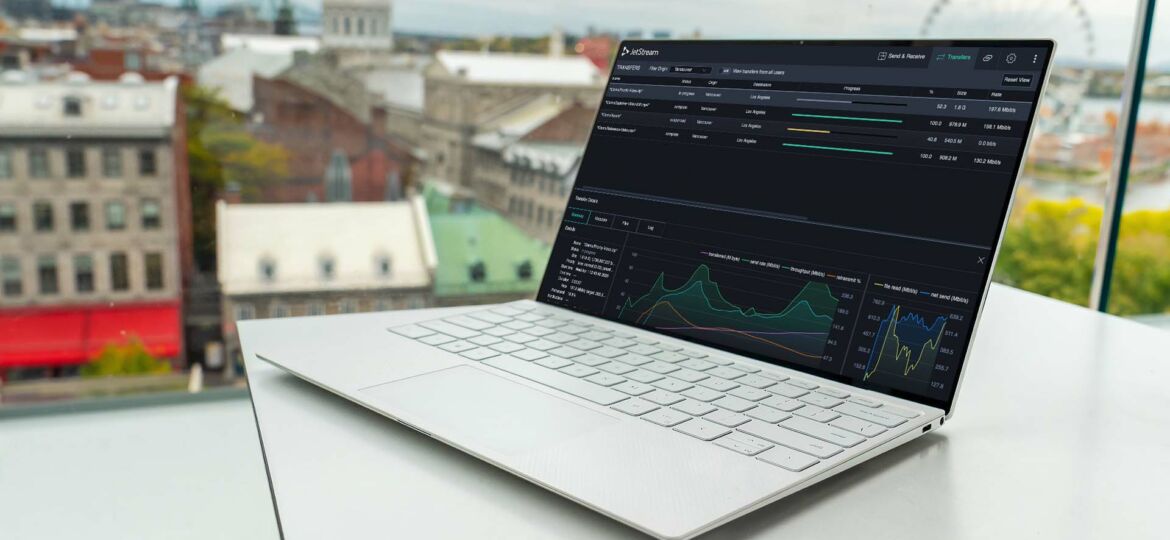 How File Transfer Acceleration Can Benefit Your Organization
Organizations today are facing numerous or ever-increasing challenges, including more data creation and consumption. Much of this large volume of information has to be sent and managed on a regular basis across geographic regions. File transfer acceleration can bring many benefits beyond sending files quickly from one location to another. If this resonates for you, then it may be time to consider a file acceleration solution such as JetStream.
Are your teams collaborating across widespread locations?
Organizations with teams located in different parts of the world understand the complexity of setting up a distributed workflow with global contributors. Primarily, users want speed and the ability to use technology from anywhere. Accelerated file transfers allow users to download and upload files at full line speed quickly over their WAN – Wide Area Network. Remote users can also seamlessly send and access material from anywhere with an internet connection. As a result, JetStream can make collaboration on a global scale easier.
Are you spending countless hours supervising transfers?
JetStream is an enterprise grade pure software solution designed to achieve full line speed regardless of network conditions. It utilizes proprietary algorithms and UDP to ensure the link is fully maximized. Easy to deploy and operate, JetStream requires little to no training. Your team can focus on producing results and spend less time waiting for files to arrive.
JetStream software uses tracking and email notifications to ensure files are not lost or forgotten. In addition, JetStream easily integrates to cloud storage and digital asset management systems. Streamline your workflows and allow your team to move on to other important tasks.
Is your IT Admin burdened with performing all large file transfers?
Some file transfer technology requires heavy IT administration because users find the software too complex. All user types can access JetStream's accelerated file transfer because of its intuitiveness and simplicity. JetStream uses existing user network credentials to remove the burden of setting up accounts. This enables organizations to easily set up a large volume of users with existing permissions granted.
Non-credentialed users may be added through a simply generated invitation, allowing for external user data exchange. As such, companies can enhance client relationships with a seamless user experience. Your clients can get set up with JetStream quickly and easily and they can start sending or receiving large files using download links and shared folders.
In addition, JetStream includes features such as central monitoring and flexible bandwidth control to optimize for speed or multi-tasking. You can prioritize jobs and get progress updates for ongoing transfers.
Are you looking to optimize your existing infrastructure?
Many companies disappointed by the speed of file transfers often look to upgrade hardware and bandwidth, which requires a large expenditure. However, investing in the right file acceleration software is a fraction of the cost and as impactful to the success rate and speed as the network you use to send the data. With JetStream, you can make your existing infrastructure more efficient by optimizing transfers and using your bandwidth to its full potential. You control your own throttling if desired. In addition, send rates dynamically adjust to adapt to current network conditions.
Do you want to ensure the files you send are secure?
Many companies regularly transfer files and are understandably concerned about the security of their assets. Traditional methods of transfer are vulnerable to security breaches and leakages. With the JetStream security layer, we employ industry standard encryption using SSL for the control channel and AES256 BIT encryption on the data to keep files private. Get peace of mind that your data is protected while also using file transfer acceleration technology that doesn't slow down everyone else on your network.
Contact us to learn more about JetStream file acceleration.