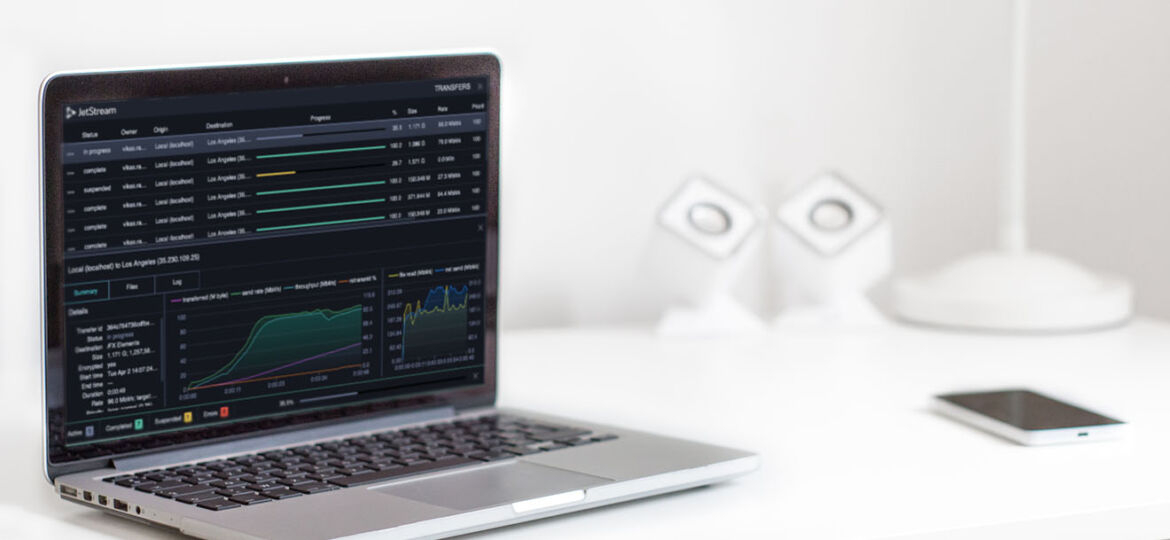 Jet Digital Releases Version 2.2 of the JetStream High-Speed File Transfer Platform
More ease of use and enhanced security highlight the latest JetStream release
Vancouver, BC – Jet Digital, a technology company reimagining high-speed file transfer, today announced the release of version 2.2 of its Go:JetStream ("JetStream") software.
JetStream provides enterprise reliability and security to transfer mission critical data at high-speed. With a client-server architecture, this latest JetStream release introduces a more powerful and user-friendly client application. For instance, various server settings previously configured via command line can now be managed using the graphical user interface of the client application. In addition, users can easily select and monitor multiple server locations with new filters. Finally, email file sharing through the client has been enhanced for better high-speed file transfer workflows.
Version 2.2 of JetStream also provides more flexibility when it comes to security. JetStream encrypts all data in transit. However, system administrators can now realize faster performance with the option to turn off this encryption if using a virtual private network. Furthermore, organizations can select 128-bit or 256-bit AES/GCM encryption depending on their requirements.
"JetStream bridges the gap between consumer-oriented services relying on legacy file transfer protocols and more complex enterprise products," says Michael Devine, President of Jet Digital. "We will continue to evolve JetStream to ensure our customers have the easiest and most secure way to move files fast. By offering unlimited bandwidth, transfer volume, and user connections, JetStream also provides the cost certainty that customers need."
A free trial of JetStream is available at https://gojetstream.io/free-trial.
About Jet Digital
Jet Digital is reimagining accelerated file transfer with JetStream. Purpose-built technology to make moving data easy, JetStream helps organizations connect and collaborate better. Thoughtful design and relentless customer focus personify the JetStream experience. For more information, visit https://gojetstream.io.