How Atomic Cartoons Enables Their Remote Workforce with JetStream
Like many industries, the world of Media and Entertainment has been rocked because of COVID-19. With productions shut down and release dates postponed, physical distancing has brought some areas to a grinding halt. However, others leverage remote working tools so their employees can work from home, stay safe, and be productive at the same time. One such company is Atomic Cartoons, a premier animation studio based in Vancouver with additional locations in Los Angeles and Ottawa.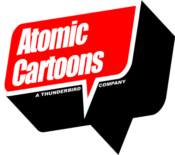 Developing the COVID-19 Plan
As the COVID-19 pandemic progressed, the Atomic Cartoons team actively monitored advice from the World Health Organization. In addition, they reviewed directives from local public health agencies. The studio's management team held a meeting on a Friday afternoon to devise strategies for a few objectives. This included doing their part to protect public health, looking after the wellness and safety of their teams, and ensuring animation projects could proceed as normal. JetStream accelerated file transfer software became a key part of the plan as a remote working tool for animation artists now required to work from home.
Implementing Remote Working Tools
Atomic Cartoons already had JetStream embedded within their workflow. JetStream servers at each location automatically moved digital assets between studios based on triggers from their project management software. Teams at each location shared content quickly and collaborated more efficiently.
Now, the challenge turned into how files could be moved just as quickly and securely from numerous animation artists working from home. The same afternoon that the studio's management team held their COVID-19 strategy meeting, they instructed their artists to download and install the JetStream client application. Digital assets could then be shared on an ad hoc basis instead of the regular automated workflow used in studio. Using the client application, artists transfer files through a simple drag-and-drop user interface. Data is also encrypted in transit, which maintains security.
JetStream has proven to be a valuable remote working tool for us

Scaling Fast at No Extra Cost
The flexibility of JetStream meant that the studio could quickly scale the solution for all their remote artists without incurring any additional costs. Moreover, JetStream enables remote team members to stay connected and continue collaboration.
According to Rachit Singh, Head of Technology, 2D at Atomic Cartoons, "JetStream has proven to be a valuable remote working tool for us. Its artist friendly workflow lets us continue to deliver high quality content so we can provide some escape for the physical distancing masses."